#21, #33 and #98 Hyundai Veloster N TCR
Round 1 of the 2020 IMSA MICHELIN Pilot Challenge
January 22 – 25, 2020
Racetrack: Daytona International Speedway 3.56-mile "Roval", features 12 turns
Race: Friday, January 25, 2020 at 1:00pm ET
TV: Live on NBC Gold "TrackPass" – condensed race broadcast on NBCSN,Feb. 6th at 1pm ET
Listen: Live on IMSA Radio at www.IMSA.com Live updates are availablethroughout the weekend on BHA social media and www.bryanhertaautosport.com
FAST FACTS: Strategizing Daytona: The 2019 IMPC season opener at
Daytona International Speedway featured 49 cars…there were 100 laps
raced and 350 miles completed in the four-hour season opener last year at Daytona. The pace was slowed by nine caution periods for a total of 42 laps and 93 minutes. Looking at the four-hour challenge this year, the BHA engineers are predicting four pit stops, burning 80 gallons of VP Racing fuel and have six sets of Michelin tires available.

Champions: Bryan Herta Autosport w/ Curb Agajanian return for their
sophomore season in the IMSA Michelin Pilot Challenge as Champions. Mark Wilkins and Michael Lewis won three races and finished outside of the top-five only twice to win the 2019 title, the first professional championship for both Mark and Michael. Teammates Harry Gottsacker and Mason Filippi had an incredible rookie season last year, completing the sweep for BHA, they scored their first IMSA victory and finished second in the championship.

From 2 to 5: Hyundai has quickly made an impact on the TCR scene in North America, having won 18 races and two championships in their first two seasons. Teams are taking notice…there are five Hyundai Veloster N TCR cars entered in the Michelin Pilot Challenge season opener, includinga third entry at BHA. Open wheel standouts Gabby Chaves and Ryan Norman join the BHA squad, in the #33 Hyundai Veloster N TCR. Chaves set the fastest Hyundai time at The Roar, lapping the Daytona "Roval" in 1:59.222.

Mixing It Up: All four drivers from 2019 are back, but the pairings have
changed for 2020. Mason Filippi now joins Michael Lewis in the #98 Veloster N TCR, while Mark Wilkins moves to the #21 to co-drive with Harry Gottsacker.

Bryan Herta: "It's been a very busy off-season at BHA, we expanded to a three-car team, we recently moved our shop to Main street in Speedway and we have few other exciting endeavors to announce soon. I'm very proud of the team and their hard work. We're all excited to start the season."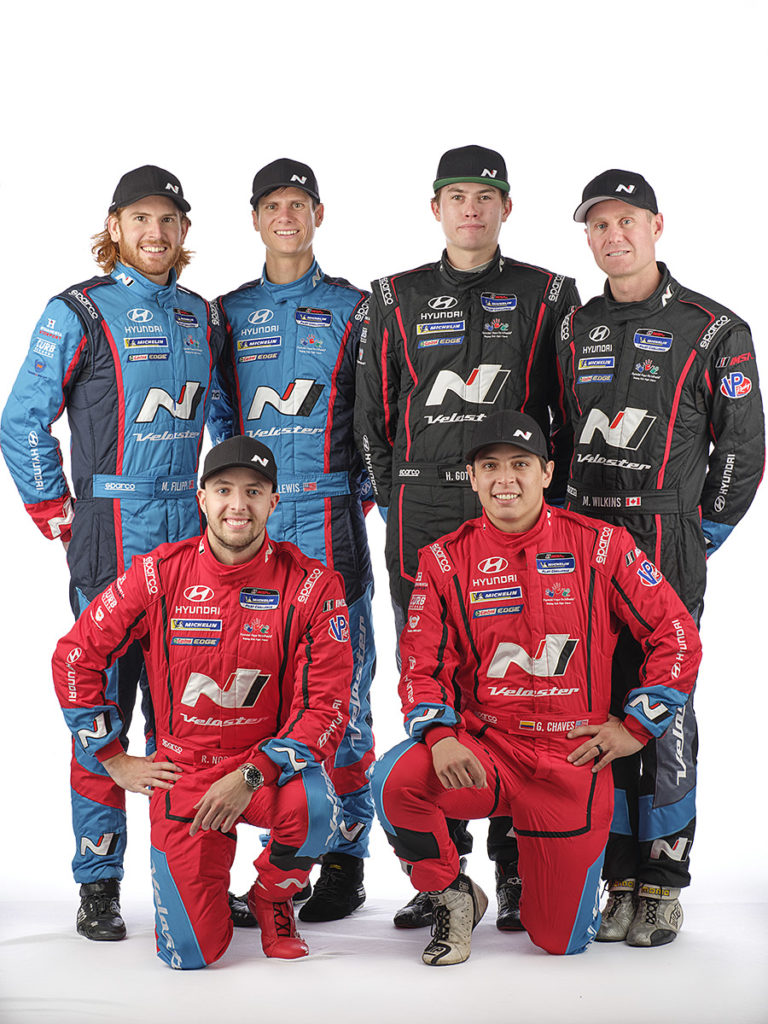 #21 Harry Gottsacker: "You can't ask for a better teammate than a past series champion. Mark has raced in touring cars, GT3, and prototypes and those are all places that I want to drive in my career. He is so detail oriented and I'm hoping that I can grab some of that knowledge. We have always got on well and I can't wait to share a car with him. As Bryan has said, we are really a team of six drivers all working together for the same goal. It is a unique approach and one that delivers results. Kicking the season off with a four-hour race is exciting. The four-hour races tend to have a lot more opportunity to capitalize on strategy, especially when you have a strong crew and driver line up. My goal is to put the car up front and in the same shape the crew gave it to me in!"
#21 Mark Wilkins: "The 2019 season was a real success for Hyundai and the entire Bryan Herta Autosport team! We left one box unchecked and we have some unfinished business in 2020. It's fantastic to see five Hyundai Veloster N TCR cars running this season and we will be squarely focused on capturing that manufacturer's championship for Hyundai this year. I've said this many times…under our BHA tent we've always been a collective team of drivers. This year I'm elated to race alongside Harry after getting to know him in 2019 and seeing firsthand his talents behind the wheel. Our #21 Veloster N TCR was dialed at the ROAR test and we're excited to get the season fired up this week!"
#33 Gabby Chaves: "The Veloster N TCR is awesome – it's fast and it handles really well. It inspires a lot of confidence, which in turn makes it easy for the drivers. It's very hard to find a program like this, with the level of commitment from Hyundai and the entire BHA team, I'm so blessed and happy to be here. There's just something about the diversity here in IMSA that I really like. IndyCar is great, but it's one driver, one car. Across IMSA, there are numerous classes of cars and drivers, and you must work together as a team with your co-driver. There are pro drivers in every car across all the categories so no matter what car you're in, you're driving against top tier drivers. The competition is tough, but I think we're going to have a great season."
#33 Ryan Norman: "I am looking forward to all of the new challenges in TCR racing. For me, coming from Indy Lights…everything is different. I'm on the left side of the car rather than the middle, the turning and braking points are different and so are the sightlines. There are creature comforts I'm not used to like power steering and it's warmer in the car…that's probably going to feel a little less comfortable at places like Watkins Glen this summer! I've also never done pitstops…the strategy element is much greater in this type of racing, so there are more variables in a race that can change the outcome. I'm excited, we showed really good speed and locked down the car at the Roar. I was comfortable immediately, driving the Hyundai Veloster N TCR is a blast. I'm fortunate to be in this position, I have a championship winning team, I have a really fast and experienced co-driver in Gabby, and I am in the best shape of my life, so we're definitely prepared for success!"
#98 Mason Filippi: "I learned so much last year in my rookie season in IMSA. The BHA team is a cohesive group and I think it shows in our performance. This year, co-driving with our current champion, Michael Lewis is going to be awesome. He is so fast and so precise. I have a unique opportunity as his codriver to learn from his experience and I am ready to maximize every lap."
#98 Michael Lewis: "It is so special to be returning with Bryan Herta Autosport to race the No. 98 Veloster N TCR race car alongside Mason Filippi this year. There is a sincere desire to win within this team and within Hyundai. We have fast, reliable race cars…it's a place where drivers want to be! It was an honor to win the championship with Mark Wilkins last year, he is a great friend and co-driver. Returning this year as the defending champion is a unique feeling, but this season is going to be even more intense. In order to repeat…there can't be any mistakes…execution is the name of the game; we can't leave anything on the table with the level of competition in the Michelin Pilot Challenge. It's going to be a great season racing alongside Mason, he is super-fast, and he makes good moves and good decisions on track. This driver combination and the combination for our other team cars will give us a shot to earn Hyundai a Manufacturer's Championship and that is what we are here to do!"
About Bryan Herta Autosport with Curb Agajanian: Founded in 2009, Bryan Herta Autosport has grown from a single car Indy-Lights team into a championship winning auto racing franchise.
Led by IndyCar and Sports Car star Bryan Herta, Bryan Herta Autosport has won races in every discipline they've entered, including Indy Lights, Indy Car, Global Rally Cross, and Pirelli World Challenge.
BHA rose to prominence after winning the 2011 Indianapolis 500 in what was the final race of the Centennial Era, a celebration of 100 years of racing at The Indianapolis Motor Speedway, with driver Dan Wheldon.
Five years later, BHA partnered with Andretti Autosport, and defied the odds again, winning their second Indianapolis 500 with rookie driver Alexander Rossi. BHA entered the Global Rally Cross Championship in 2015 under the name Bryan Herta Rallysport, scoring multiple podiums and wins.
In 2018, BHA entered the Pirelli World Challenge in partnership with Hyundai and dominated the TCR class, winning seven races with drivers #98 Michael Lewis and #99 Mark Wilkins in the Hyundai i30N TCR, securing the team and manufacturers championships in the process.
In 2019, BHA moved to the IMSA Michelin Sports Car Challenge, adding pitstops and endurance racing to the mix. The transition was flawless, BHA swept the series driver and team championships with driver Mark Wilkins and Michael Lewis finishing first in the #98 Hyundai Veloster N TCR and young guns Harry Gottsacker and Mason Filippi finishing second in the #21 Hyundai Veloster N TCR.
For 2020, BHA continues its' successful partnership with Andretti Autosport fielding the #98 U.S. Concrete Honda w/ Curb Agajanian in the IndyCar series for driver Marco Andretti. They will return as champions to the IMSA Michelin Pilot Challenge series with an expanded program, adding a third car, the #33 Hyundai Veloster N TCR for open wheel veterans Gabby Chaves and Ryan Norman.
Bryan Herta Autosport is the U.S. sales agent and parts support representative of Hyundai TCR race cars for customer teams. For more information, visit www.BryanHertaAutosport.com.
Hyundai Motor America Hyundai Motor America is focused on delivering an outstanding customer experience grounded in design leadership, engineering excellence and exceptional value in every vehicle we sell. Hyundai's technology-rich product lineup of cars, SUVs and alternative-powered electric and fuel cell vehicles is backed by Hyundai Assurance—our promise to deliver peace of mind to our customers. Hyundai vehicles are sold and serviced through more than 830 dealerships nationwide with the majority sold in the U.S. built at U.S. manufacturing facilities, including Hyundai Motor Manufacturing Alabama. Hyundai Motor America is headquartered in Fountain Valley, California, and is a subsidiary of Hyundai Motor Company of Korea.