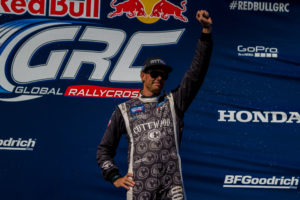 Los Angeles, CA (October 11, 2016) Patrik Sandell and Bryan Herta Rallysport exemplified the team's strength under pressure in Los Angeles for Rounds 11 and 12 of the Red Bull Global Rallycross series with a fifth and third place finish. Round 11, the No. 18 Cuttwood Ford Fiesta ST soared from last position to grab a fifth place finish in the Final. Round 12, Sandell grasped a podium finish for the last race of the 2016 season.
"We had a rough day, but as a team we were able to recover very well and we were able to get to the Final," Sandell said on Saturday. "In the Final we had a stunning launch and were able to pass a lot of people in the first few corners using a technique that a lot of teams were not thinking about. We thought that we could go on the outside because everyone else was fighting from the inside. We went from last place to fifth place."
The Final Round of the 2016 season on Sunday ended the doubleheader weekend for the team with a podium finish. After a broken left front lower control arm resulted in a poor finish in Heat 1 from a result of contact with another car, the team rebounded with a second place in Semi-Final B. Sandell charged to the lead from his front row starting position in the Final for ten laps. Although unable to hold on to first position at the checkered, Sandell maintained third position for the last Final of the 2016 Red Bull Global Rallycross Season.
"For today's Final the launch was just perfect," Sandell said on Sunday. "Starting from the outside we were able to go around everybody into the second quarter. My spotter Mattias was able to guide me throughout the race and I tried to take care of my tires because we did a twelve lap Final. It worked out until we had four laps to go because my tires started to go away. I tried to just hang in there the rest of the race in order to not put myself in trouble. In the end we were able to get on the podium which is really great for Bryan Herta Rallysport who did a fantastic job this weekend. I want to give a special thank you to Max at Pipo who gave me a fantastic launch. As well as the support from Cutttwood and King Taco this weekend."
ABOUT BRYAN HERTA RALLYSPORT: Co-Founded by veteran driver Bryan Herta and Sean Jones, Bryan Herta Rallysport made its debut in Red Bull Global Rallycross in 2015, completing its first season with one win and five podiums. This year, Bryan Herta Rallysport seeks to continue success through the championship with Patrik Sandell behind the wheel of the No. 18 Cuttwood Ford Fiesta ST Supercar. Herta is also owner of Bryan Herta Autosport, a two-time Indianapolis 500 race winning team in the Verizon IndyCar Series.