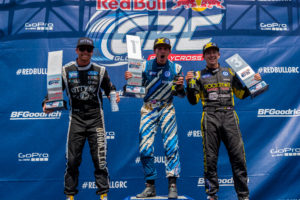 Washington, D.C (July, 30 2016) The No. 18 Cuttwood Ford Fiesta ST brought good fortune after a month's rest from racing to the Bryan Herta Rallysport team as they completed the single-event weekend in second place. This was the fourth weekend in a row that rain caused schedule changes, but the changes proved to be no match for the team. Sandell finished fifth in Qualifying, third in Heat 1, second in Heat 2A and had a second place finish in Semi-Final B to create an excellent segue into the Final.
"Very pleased with second place and it's nice to be back on the podium," Said Sandell. "I think we did what we could today. We had a good start in the Final and we were able to come off second while following the leader the whole way through. There was no drama, it was a safe second place and we achieved a lot of points moving forward."
Currently fourth in the Championship race with 299 points after this weekend, the team has a three week break till they are back on track for Round 9 in Atlantic City to continue earning points for the 2016 Red Bull Global Rallycross Season.
ABOUT BRYAN HERTA RALLYSPORT: Co-Founded by veteran driver Bryan Herta and Sean Jones, Bryan Herta Rallysport made its debut in Red Bull Global Rallycross in 2015, completing its first season with one win and five podiums. This year, Bryan Herta Rallysport seeks to continue success through the championship with Patrik Sandell behind the wheel of the No. 18 Cuttwood Ford Supercar. Herta is also owner of Bryan Herta Autosport, a two-time Indianapolis 500 race winning team in the Verizon IndyCar Series.